[ad_1]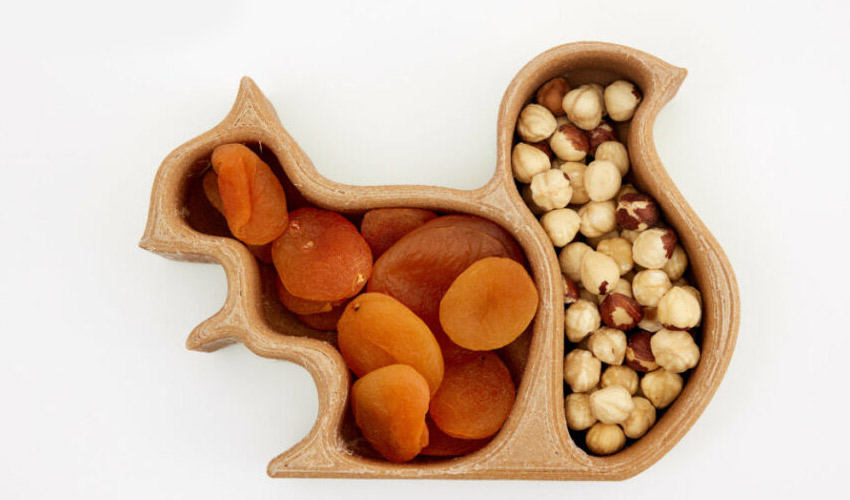 A few weeks ago, we first told you about GREENFILL3D, the Polish startup behind ecological and biodegradable materials for 3D printing. It has especially developed a filament made from wheat bran, GF3D Branfill3D. This material was created according to modern concepts of zero waste and circular economy: wheat bran is production waste from the pasta industry. From this thread, the startup has 3D-printed its point of sale (the famous point of sale – POS), where packages of pasta will be served and sold. This project was developed in cooperation with the MASPEX Group, one of the largest food producers in Europe. To find out more about the activity that takes place within the company and its threads, we caught up with its director, Paul Slusarczyk.
3DN: Can you introduce yourself and your link in 3D printing?
My name is Pawel Slusarczyk and I have been in the 3D printing industry for over 9 years. In January 2013, I founded Centrum Druku 3D, the largest 3D printing site in Poland, which helped develop the Polish additive manufacturing industry. All the major Polish companies, such as Zortrax, Sinterit, Zmorph, Omni3D, 3DGence, Technology Applied, Spectrum Filaments, Fiberlogy and many others appeared on our site. I have many years of experience implementing innovative projects – in 2019 we created our own 3D bioprinters – called SKAFFOSYS, and later we started a 3D bioprinting lab in Poland. In 2020, this project was separated from our company and continued by another independent team.
3DN: How did the idea to create GREENFILL3D come about? What is his mission?
In 2021, we established cooperation with MASPEX Group, the largest food producer in Poland and one of the largest in Europe. MASPEX Group approached us with the idea of ​​creating advertising media out of their waste. The company had various post-production waste, organic (vegetable waste, wheat bran, etc.) and cardboard and plastic waste. In the end, we decided on wheat bran, from which we decided to produce threads for FDM / FFF technology. In July 2021, we signed a formal cooperation agreement and started the research and development process.

To facilitate the procedures, we decided to immediately separate this project from CD3D, and in July 2021 we created a new independent company: GREENFILL3D. We also participated in the EU project – ScaleUp, which provided us with sufficient funding for research and development.
We have invited to cooperate with PAN (Polish Academy of Sciences), the largest and most prestigious scientific institution in Poland, with whom we have already cooperated on the 3D bioprinter project. Together we have developed a unique chemical blend consisting of wheat bran, PLA and other chemical compounds, all of which are completely biodegradable!
In conclusion, our mission is to search for environmentally friendly materials, focusing on biodegradable and compostable bioplastics. At the same time, we are looking for applications where the use of these materials is both functional and meaningful – we realize that currently bioplastics cannot replace, for example, polyamide or polycarbonate. We are looking for things that can be printed, for example from wheat bran, but still functional. We don't want to impose bioplastics where they are not appropriate.
3DN: What are the main advantages of turning wheat waste into filaments for 3D printing? its limits?
Wheat bran has wonderful and amazing properties. At the beginning of the project, we were very afraid that the thread would be brittle and break, but since the sound is fibrous, the final 3D prints are flexible, not like polypropylene or TPU, but not easy to break. While testing our pads, we loaded a shelf a few pounds—over the course of the week, the shelf and sidewalls flexed a lot, but didn't break. Also, when we rotated the rack 180 degrees and applied the same weight to it, it straightened in 2-3 days, and then bent over on the other side. But there is no trace of a crack.
In addition to the physical properties of wheat bran in the form of filaments, the idea of ​​​​using production waste and turning it into a 3D printing material, from which we create a support for the promotion of pasta from which it is made, is a great idea.
As for the limitations, they are few and I think they are easy to solve. At the moment, it is necessary to use a 3D printer with a nozzle of a larger diameter: 0.5 – 0.6 – 0.8 mm; Of course we are able to print filament with 0.4mm in diameter, but with higher diameters we are sure the material will come out correctly. At the moment we only have 1.75mm filament, which is not very suitable for Bowden extruder, so we only recommend direct extruder. However, we are planning a 2.85mm filament and will test it, for example, on an Ultimaker or BCN3D; I am confident that the Bowden extruder issue will be resolved.
3DN: Do you plan to develop other food waste strands in the future?
Yes sure. At GREENFILL3D, we have a detailed roadmap for future research and development actions. First, we want to increase the use of wheat bran to 40% at the production level, and then develop something new. We'll probably still use wheat bran, but the other ingredients will be different. There are many interesting bioplastics that you can try.
3DN: Where do you see the future of zero waste in 3D printing?
Everywhere. During the past few months, I have been exploring the topic of producing plastics from environmentally friendly materials, and I can assure you that there is not a single large chemical company in the world that does not do any research in this field. We are on the cusp of a major revolution in plastics, much of which is based on the concept of zero waste. The effects will be visible in a few years but they are certain and inevitable.
Currently, industrial 3D printing is far from the environment. Everyone is trying to replace metals with high-performance plastics, but they don't last forever. Recycling these plastics seems better in theory than in practice: worldwide, only 10% of plastic waste is recycled, and the rest goes to landfill or floats in seas and oceans.
Until this problem is solved at scale—and we're talking giant waste-producing plants here—GreeNFILL3D is convinced that the best solution is bioplastics, designed to degrade naturally from the start. Of course, all this applies not only to 3D printing, which remains a niche, but to all types of plastics in the world.
3DN: A final word to our readers?
Be responsible when 3D printing at home or at work. If you never have to, try to use environmentally friendly materials. Also consider the common use of plastic in everyday life. People are worried about dying from COVID-19, when the real threat is dumping us with plastic everywhere. It is one of many real threats that almost no one knows about. Read, meditate, and think about making some changes. Don't wait for others to do it.
What do you think of the developments implemented by GREENFILL3D? Feel free to tell us your opinion in the comments of the article. Find all our videos on our channel Youtube or follow us FB where Twitter !
*Cover Image Credits: GREENFILL3D


[ad_2]

Source link